INTERIOR DECOR
No more empty walls
Our posters and fine art prints are produced on acid-free papers using archival inks to guarantee that they last a lifetime without fading or loss of color. Each print is personally signed by the artist Natalia Samsonova, the creator of Owls On The Birch.
FINE ART PRINTS AND POSTERS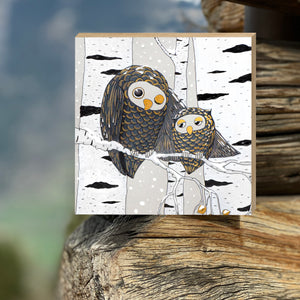 The warmth of wood
Your favorite owl printed on wood is an extraordinary and beautiful decoration for your home. Wood as a picture carrier is particularly stable and durable. The clearly visible wooden edge fascinates with its striking depth. Fine art print ensures the outstanding image quality.
PICTURES ON WOOD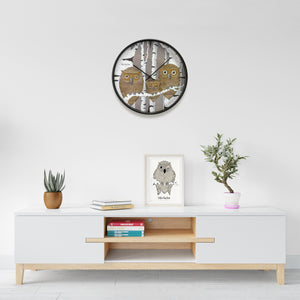 Shows more than just the time
Our wall clocks are beautiful and practical eye-catchers and set an accent in any room. Choose your favorite owl motif and these unique wall clocks will help to create a personalized environment. The wooden frames radiate warmth and coziness while the high-quality owl prints look like painted by hand.
WALL CLOCKS
POSTCARDS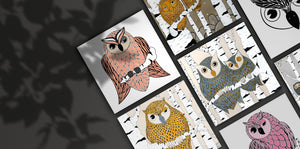 Greeting cards that look and feel different
Our premium Owls On The Birch postcards are made with archival-quality Mohawk Superfine paper. With its beautiful formation and uniformity, nothing prints better. They not only look great, thanks to their texture and noticeably thickness they also feel unique. Postcards that simply stand out.
Premium Postcards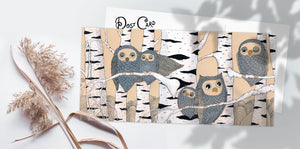 The Landscape format
Thanks to the landscape format, these postcards are ideally suited for the reproduction of the same format Owls On The Birch paintings. The size of 210 mm x 105 mm offers enough space for your letter to your beloved ones. Put a stamp on it and let the owls fly!
Landscape format postcards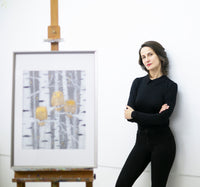 Our story
Owls On The Birch was founded in 2017 by Natalia Samsonova, a Swiss/Russian artist and designer.
Started from a few handmade owl paintings on request for friends and families, the paintings became more and more popular and the demand for variations and different products was growing fast. Today you still can buy a unique hand made owl painting by Natalia herself, but also less expensive art prints, many decorative articles, postcards, and a fast-growing fashion line. Everything designed in Switzerland with a lot of love for details and produced strongly limited in premium quality.
Natalia's owls have a unique look and each owl is easily recognizable as a member of the Owls On The Birch family. They have their names and specific characters. Find the owl that fits to you!
Handmade paintings
Testimonials
It's magnificent. The colours, the shapes, the exquisite details. Fabulous 🏆 and it's wonderful to hear about how you were inspired to create a series of pieces on owls.

Del Elle (Instagram)
I just had like to like all three posts. Each painting has it's own mood and character and together they make a wonderful trio like a piece of music. Magnificent⭐️🏆⭐️

Del Elle (Instagram)
Your work is just lovely 💖💖💖

Aydana (Instagram)